In New York City, top-quality office space is coming online despite challenging economic conditions.
The ongoing "flight to quality" for commercial office space across the country is no secret, with companies of all sizes flocking to recently redeveloped or newly built buildings with unique, enticing amenities. As larger companies embrace hybrid work models and seek a more boutique office experience, smaller creative tenants in the 10,000- to 30,000-square-foot range now make up the most active segment of the market. According to CoStar, about 65% of leases signed in early 2023 were for space commitments of less than 15,000 square feet.
While tech and FIRE (financial, insurance, real estate and legal) tenants have rethought larger office spaces, smaller office users are driving a new wave of commercial leasing. CoStar expects that this trend will only continue in 2023. Just 9.1% of leases signed in early 2023 were for 100,000 square feet or more, down from 11.6% in 2022 and nearly 19% on average in 2017-19.
Along with the trend toward smaller space commitments, the style of in-person workspaces has also shifted. According to CBRE, these tenants are driving demand for flexible, well-located offices that support new hybrid work models and in-person collaboration. When looking for space, today's employees don't want monotonous cubicles and corporate environments that have long been commonplace, but rather buildings with character, history, charm and creativity. Thus, a subsequent trend has emerged, both nationally and across core Manhattan: a "flight to cool."
Affordable and Cool
According to owners and brokers, this flight to cool stems from a few different factors: companies not having the budgets for $150-per-square-foot office rents, yet still wanting top-quality, desirable space that entices employees to show up in real life; greater attention to ESG and sustainable building practices, which puts adaptive-reuse office spaces front and center; and a need for spaces that possess character and cultivate a sense of culture, whether it's through historic architecture, communal indoor-outdoor workspaces, or fitness, restaurant, and retail offerings.
With the ongoing effects of climate change and impending legislation that requires sustainable building practices, such as Local Law 97 in New York and the Building Emissions Reduction and Disclosure Ordinance (BERDO) in Boston, commercial and residential developers are looking to adaptive reuse to address embodied carbon and breathe new life into buildings, while meeting the demand for unique, character-filled spaces.
Estimates show that within the next 10 years, 90% of real estate development could involve adaptive reuse of existing buildings instead of new construction, according to a Deloitte study cited in Work Design Magazine. On top of decreasing the carbon footprint, adaptive reuse projects preserve architectural and historical elements, re-engage urban spaces previously viewed as liabilities, and reinvigorate communities by turning existing structures into places that add to the neighborhood's energy and desirability.
Hudson Square is Happening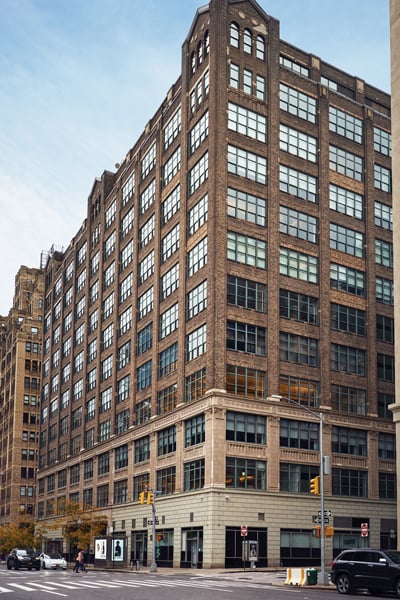 Midtown Manhattan and the Financial District have long been known as a global hub for office buildings and workplaces, with an endless skyline of skyscrapers and the constant bustle of workers.
While the pandemic brought a series of unprecedented challenges, it also introduced opportunities for the city to embrace new styles of hybrid work and tap into the advantages of adaptive reuse projects that were already underway in neighborhoods that weren't historically known for office environments.
One such neighborhood is Manhattan's Hudson Square. Once known as the city's printing district, the area has rapidly solidified into an important live-work-play district thanks to rezoning, an influx of new businesses, ultra-sustainable development, and new cultural and retail opportunities. Located between the West Village, Soho and Tribeca and bounded directly to the west by the Hudson River Greenway, Hudson Square has emerged as a hotspot for creative firms and media companies.
Innovative businesses frequently demand space to achieve their goals, and neighborhoods that appeal to their creative workforces. Hudson Square offers both. Fashion brand ESPRIT recently announced a 10-year, 38,000-square-foot lease at Hudson Square's 160 Varick Street, which will serve as the retailer's U.S. global creative headquarters.
A few blocks away, the newly built 555 Greenwich will soon seamlessly combine with the historic 345 Hudson in a rarely utilized development method — a horizontal overbuild. This involves the addition of new construction on top of an existing building, expanding the usable floor space horizontally. Thus, the building will expand "out" rather than "up." These projects reside in an increasingly diverse neighborhood of boutique retail, appealing dining options, and an array of public art and landscaping.
The Sweet Spot
In Brooklyn's Sunset Park, Industry City is an example of reimagining former manufacturing buildings into epicenters of creativity and innovation, with tenants across industries such as technology, fashion, design, film production, life sciences and more. Today, the campus serves as a blueprint, not only for this kind of adaptive reuse, but also for a robust design and placemaking strategy that successfully attracts and retains the creative class.
For example, in 2019, fast-growing e-commerce company MPB, which specializes in used photo and video equipment, opened its North American headquarters at Industry City. Currently, MPB occupies a 15,000-square-foot office that connects via staircase to a 45,000-square-foot warehouse and fulfillment center on the lower level.
Similar investments across Brooklyn appear to be paying off — attracting desirable tech and creative tenants looking for a feeling of authenticity and connection to place. A recent study on NYC's Tech Ecosystem, which HR&A Advisors produced for the Association for a Better New York (ABNY), Tech:NYC and Google, showed a 42% increase in tech job growth in Brooklyn between 2012 and 2021, likely a result of a decade of investments in the Brooklyn Navy Yard and Tech Triangle.
Given the success and interest adaptive reuse buildings have experienced, additional projects continue to come online across New York, such as 122 Fifth Avenue, an 11-story building originally designed in 1899 by prolific architect Robert Maynicke that is wrapping up a thoughtful vertical and horizontal expansion and restoration that maintains its century-old character.
While the office sector is undoubtedly changing, companies are still in need of in-person spaces. Creative companies that thrive on collaboration are looking for smaller space commitments in cool, retrofitted buildings that shine a spotlight on character, functionality and creativity. As productive as these dynamic, mixed-use buildings and districts are for their owners and tenants, they are just as valuable for the cities that surround them. Every vacant building that is repurposed creates property tax revenues, business opportunities and opportunities for policy goals such as affordable housing.
Boosting street-level vibrancy in neighborhoods attracts office workers, residents and visitors, who in turn generate jobs, sales taxes, and other important economic and social benefits. There is an opportunity — and perhaps a collective imperative — for building owners, tenants and policymakers to work together to find ways to create workplaces, neighborhoods and cities that are exciting, inviting and inclusive.
Read the article from NAIOP Development Magazine here.
Learn more about leasing office space at IC here.